Roasted Yams and Asparagus Recipe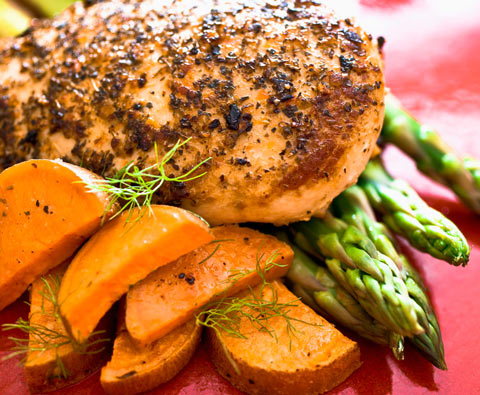 A delicious, flexible side dish to amp up your alpha lipoic acid intake. This recipe pairs wonderfully with grilled or roast chicken!
Serves: 4
Prep Time:
Cook Time:
Ingredients:
2 pounds yams (about 4 medium), scrubbed and cut into 1-inch wedges

1 pound asparagus, washed and prepared

2 tablespoons fractionated coconut oil or avocado oil

Salt and pepper, to taste

Other spices, to taste, including rosemary, thyme, garlic, cumin, ginger, or cayenne
Directions:
Preheat oven to 450 degrees.
Place yams and asparagus in bowl.
Sprinkle with oil and spices and toss well.
Place yams on baking sheet lined with parchment paper.
Bake for 20 minutes, flip yams over.
Add asparagus to baking sheet.
Roast for 20 minutes more or until yams and asparagus are tender.
Disclaimer: This website is not intended to replace professional consultation, diagnosis, or treatment by a licensed physician. If you require any medical related advice, contact your physician promptly. Information presented on this website is exclusively of a general reference nature. Do not disregard medical advice or delay treatment as a result of accessing information at this site.